On the top North-Western corner of Ireland, Donegal Airport opens up the North-West for the leisure and business traveller. Located at Carrickfinn, Kincasslagh, the airport is approximately 15 mins drive from Dungloe and Gweedore, and 45 mins from Letterkenny. Donegal Airport is just 55 minutes flying time from Dublin and is a region noted for its unspoiled natural scenery, its maritime environment and fishing industry, inhabited islands and a unique tourism industry.
Touch down and experience Donegal's hospitality, absorb the heritage and culture of Donegal's Gaeltacht – where Irish is the everyday language. Linger a while in the comfortable Café Bar Carraigfhinne with option of outside dining.
A nearby blue flag sandy beach is just one of many throughout this scenically magnificent area of North West Ireland. It spreads out along a dramatic, rocky coastline, blue-green mountains and deep tranquil valleys. Here, in the midst of breath taking beauty lies Donegal Airport, with twice daily flights to Dublin and  worldwide onward connections.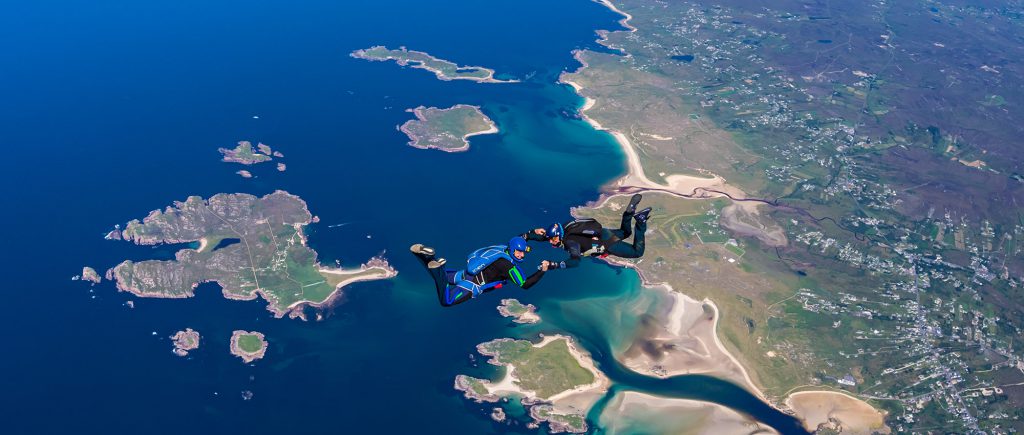 Owned and managed by a private limited company 'Aerphort Idirnaisiúnta Dhún na nGall Teo', Donegal Airport is one of Ireland's network of regional airports. It was first developed to provide easy access for business executives wishing to locate to the local industrial estate. The airport is now widely recognised as a key element of the county's infrastructure. It is extremely important as an air access point to this most peripheral region in Ireland, to sustain existing business and for the future economic development of the entire region.
The first passenger service in 1986 was started by a small Scottish airline, Malinair, who identified a demand for a Donegal/Glasgow route mainly from what is known in the trade as the VFR market (Visiting Friends and Relations). Currently, schedule flights operate to Dublin  on a year round basis. The Dublin service operates twice daily to and from Dublin under the government's public service obligation scheme (PSO) This service is operated by Emerald Airlines under Aer Lingus Regional. The scheme provides financial assistance to airlines to provide the type and quality of air service to peripheral regions for sustained regional social and economic development.
The airport has achieved significant passenger growth rates year on year, with the growth on the Donegal/Dublin route mainly due to excellent flight times. These early morning flights out of Donegal to Dublin and evening returns from Dublin have been particularly well suited for business and commercial industries in both regions. The twice daily service suits the leisure and tourism market particularly with regard to onward connections. The service is above all seen as a lifeline for social services such as health and education
The airport has opened up whole new markets to the tourism sector, enabling product providers such as hotels, transport providers, golf clubs, leisure fishing etc to promote their facilities to wider domestic and international markets.
It has also opened Donegal up to those in the Dublin region for adventures and weekend breaks, especially when 'stay-cations' have become so popular in recent times. Flights on the Dublin – Donegal route are operated by Emerald Airlines under the Aer Lingus Brand. 
  Other airport operations include Air Corps, Marine Search and Rescue Services, private charters and general aviation.Facilities at the airport include Café Bar Carraigfhinne & Shop, Tourist Information, ATM, Wifi, Enterprise Car Rental, taxi services and hangar and office space rental.